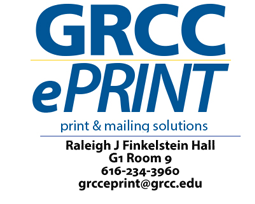 Pick-up hours are 8:00 am - 4:00 pm Monday - Friday
Grand Rapids Community College has closed its campuses to slow the spread of COVID19. GRCCePRINT is monitoring email, voicemail and submitted orders to continue to support our customers. We will schedule work based on needs and timelines that follow social distance rules.
We have options for your events! Here are just a few items we have provided to our customers.
Give us a call to discuss your event. Please Note: Specialty Items take up to 10 business days to produce and usually have a minimum quantity order of 100-150 pieces.